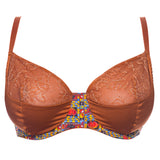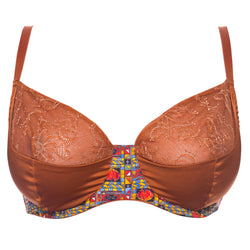 Superba Bra
These gorgeously indulgent luxury lingerie sets can work inspirational magic to flatter your shapeliness and express your individuality.

With tones of the reassuring warmth of baked earth, secret movements of tawny owls through dusk, or perhaps comforting confidences shared over shared coffee and caramels, classic colour is beautifully contrasted with contemporary and unique ethnic design hints, adding a contemporary highlight to more traditional lingerie colours.
For every woman who wants ease of movement and the reassurance of complete freedom of mind, the Flame Lily lingerie collection's high quality silk and lace materials and couture tailoring, will become a wardrobe essential for the woman who aspires to the best, forever.

Whichever combination of quality lingerie you choose, each Superba lingerie set will evoke your potency and prowess through deliciously comfortable fabrics and design in underwired, full cover bras and for any pleasure-seeking woman's day.