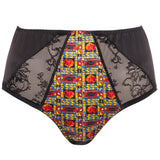 Dema Knickers With Detachable Suspenders
Alternate skimpy Dema knickers with a bra and suspender-knickers, all in one design combinations. Indulge in retro classically-tailored, high-waist knickers with silk straps to hold stockings or simply highlight shapely thighs.

This Dema collection's lingerie design combines the sophistication of classic black silk and lace bra and knicker sets, while oozing self-confidence of erotic promise . Luxuriate in enhanced expectation and excitement this ethnic silk print twist at the heart of the Dema collection's lingerie design. Choose the Dema full cup bra and knicker-suspender set, with bold colour accents, for making an unforgettable impression.