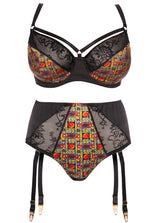 Dema Silk Bra
Miss Chii's 'Flame Lily' Dema black lingerie collection boldly projects feminine knowing wiles with promises of womanly wild.

Contemporary, ethnic design silk print detail completes classic black bra and panties or knickers, with a totally uniquely playful flavour to traditionally all black diva lingerie.
Added black silk strappy details above the full Chinese silk and Chantilly lace Dema bra cups enhance your womanly décolletage, with a frisson of danger.

Complete your Dema bra with black silk and lace panties that highlight your waist area, with flirty silk straps to draw the attention of an appreciative eye. The bold detailing of the full cover bra and panties set will set pulses racing…

This Dema collection's lingerie design combines sophisticated, classically sexy black silk and lace bra and knicker sets. This unique take on the black lingerie set oozes self-confidence and erotic promise. Luxuriate in enhanced expectation and excitement this ethnic silk print twist at the heart of the Dema collection's lingerie design.